Difference between revisions of "Plugin Wiki"
From OpenPLi Wiki
m

 

Line 21:
Line 21:
 

#'''systemplugins'''

 

#'''systemplugins'''

 

#'''drivers'''

 

#'''drivers'''

−

#'''modules'''

 
 

#'''skins'''

 

#'''skins'''

 

#'''picons'''

 

#'''picons'''
---
Latest revision as of 13:30, 26 April 2020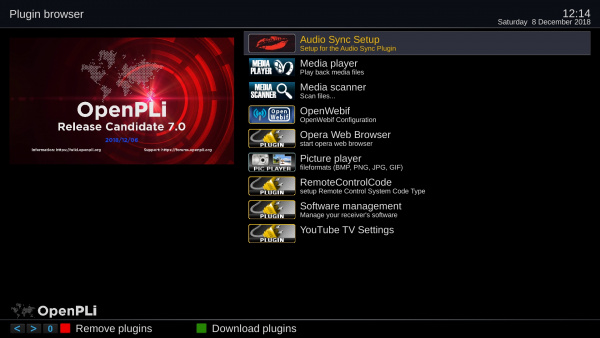 Plugin Browser
---
If you want to add more functions and services to your box you can install plugins in OpenPLi by going to Menu > Plugins. Here you can startup, remove or download plugins. These plugins are from the feed of OpenPLi, this means they are fairly safe to use. But it's advisable to create a full Backup using BackupSuite when your going to install plugins, you never know what can go wrong.

Download, Remove or startup plugins
---
In the Plugin browser Menu > Plugins using your remote control you download (you need internet access for this feature) new plugins using the Green button and with the Red button you can remove the ones that are installed. Once a plugin is installed you can move to it and use it.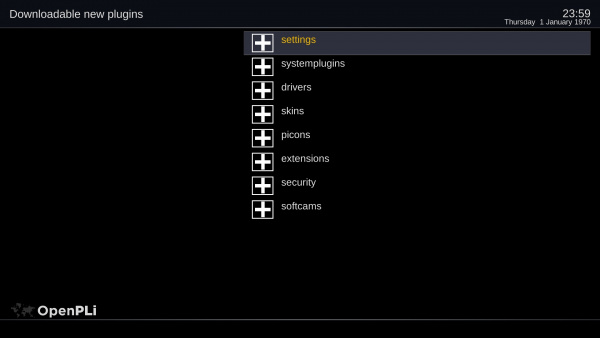 Sections
---
When in the plugin browser you can press the green download button. When you have a internet connection the download feeds of OpenPLi become visible and you will see 8 (9) sections. As of OpenPLi 7 there is added the section modules, it harbors many many modules to add external device support:
settings
systemplugins
drivers
skins
picons
extensions
security
softcams