Releasenotes-6.1
From OpenPLi Wiki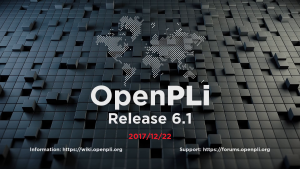 Improvements on Helptext messages
Flashimage support: Online Flash - Flash your USB disk with a image from the Televisionscreen. Press \Menu\Installation'Flash image\ https://forums.openpli.org/topic/52456-flash-image-from-ui-instead-of-reboot/#entry745951
Restart enigma with a new logo
Cablescan - Different regions can now be selected for scanning
AutoDiseqc extended with other satellite positions, Like 0.8 west and 16.0 East
Quad PiP for VU+ Solo 4k and Ultimo 4k receivers
Kodi support for VU+ and Mutant receivers
Kodi and HbbTV  support for all UHD receivers
Support for HTTPS TS streams
Hotkey can now accept command's as string instead of list of commands
Offline CI decoding
HbbTV (Except for Miraclebox. No support from the manufacturer)
Multiboot for Mutant HD51 and Zgemma H7
Add fastscan for KabelKiosk and Diveo Germany
Netbios browsing enabled
Flashimage support.
Updates:
Plugins
Drivers
Gstreamer stable 1.12.3
Softcam: update oscam and oscam-emu
IPTV: update ffmpeg en betere dash interface, update extexplayer3
Security:
Latest security updates on Morty (including fix for WPA KRACK)
New added: davfs, yafc, sftp
Bugfix:
Timer: Weekly display fixes
New Receivers support:
VU+ support uno4kse and Zero4k
Zgemma support H6
Amiko support for viper combo and vipert2c