Full Band Capture
From OpenPLi Wiki
Television today
---
Digital video recorders have become mainstream and Internet-based applications like Hulu and Netflix are delivering streaming content and multiple screens from bedroom TV sets to mobile phones and tablets are trying to tap into growing home video catalogs. Today, pay-TV providers need to offer more than just a hefty channel lineup to keep subscribers happy.
So today's viewers want products and services that enhance their viewing experience, such as whole-home connectivity or the flexibility to record several shows simultaneously. This takes multiple video streams to power those sorts of features, translating to more, power-hungry tuners working in a single box required to capture several avenues of content at once.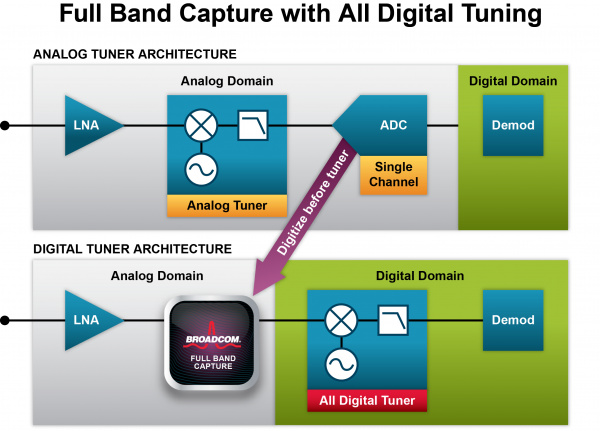 Full Band Capture (FBC)
---
With extra hardware comes extra costs and extra complexity. But thats now starting to change. Broadcom's Full-Band Capture (FBC) digital tuning uses digital technology that allows operators to offer set-top boxes and gateways that not only deliver tons of TV channels and high-speed broadband, but also do so easier, quicker and at a lower cost. Once in a single device, it does this by digitizing the spectrums for both cable (1GHz) or satellite (950-2150 MHz).

It then uses advanced digital signal processing (DSP) techniques to digitally tune multiple channels simultaneously. Each of these new channels feeds into a digital demodulator that outputs a video transport or IP stream. A diagram of Full Band Capture technologyWith FBC, there is no longer a need for frequency allocation to buffer the different services running through the broadband pipe.

More Content
---
Cable operators can apply previously unusable frequencies for additional broadband services and seamlessly transition from the old inefficient broadcast model to a new, flexible and more efficient IP process. Now, operators can deliver eight to 32 downstream channels of combined video streaming and Internet-based services to multiple connected devices within the home. More importantly, it delivers more content and in-demand services while reducing energy consumption by more than 50 percent. For the viewer, the results appear in additional HD broadcast channels, as well as new IP video services, such as advanced movie streaming.

Remote control
---
Another big change for the user will come to the remote control experience. With digital tuning, channels changes will be nearly instantaneous. Converting from analog to digital is no easy feat. Capturing more TV content and services and supporting faster broadband speeds is a challenge in todays systems. Thats what makes Broadcom's FBC technology both revolutionary. Its a product that bridges the gap between yesterdays analog video delivery and the future of enhanced, Internet-powered broadcasting.