Channel Settings
From OpenPLi Wiki
*

Hanssat

(Primary dutch oriented)
IPTV Streams available
Obviously this page hasn't been edited before. Via menu - applications - green button you arrive at the downloadsection. Under settings you find several ready to use channel settings. Depending on you satellite / cable configuration you will find here several settings.
Hans 13e-19-e-23e-28e for Astra 1-2-3 and Hotbird.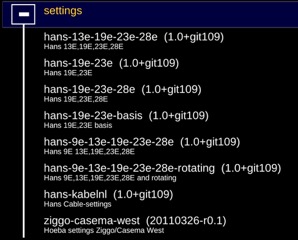 Besides the settings Hans-19e-23e-basis, all settings offer a large number of IPTV channels from all over the world. Depending the hardware you use this might be very interesting for you.